SPEAR'S Russia Wealth Management Awards 2014
Type:
Gala Receptions & Presentations
Format: annual ceremony
Agency: MEDIACRAT
Date & Venue: 4 December 2014, Mossovet Theatre, Moscow
Web: awards2014.pbwm.ru
News
December ′2014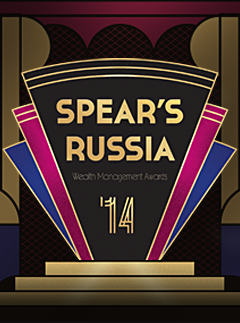 On the evening of December 4, representatives of the best of the private banking and wealth management industry were announced at the SPEAR'S Russia Wealth Management Awards held at Moscow's Mossovet Theatre. This was the sixth ceremony for the Awards. The event was once again hosted by Ivan Urgant.
The Bank of Moscow received the accolade as Best Russian Bank, while Rietumu Banka was named the first private bank in the Baltic States and the CIS for the third year in a row. Among foreign private banks, the Judging Panel also singled out Friedrich Wilhelm Raiffeisen and Goldman Sachs: the former, as the best foreign bank in Russia, and the latter, as the best bank serving HNW Russians abroad.
Promsvyaz Asset Management was named Best Asset Management Company, Absolut Private Bank – the main startup of the year, and CONFIDERI Advisory Group was honored as the best family office. EY was recognized as Tax Consultant of the Year and YUST as Legal Consultant of the Year.
Among the personal nominations, the winners were Roman Avdeev from Credit Bank of Moscow ("Banker of the Year"), Vasiliy Sofiyskiy of Sberbank Private Banking ("Investment Consultant of the Year"), Slava Rabinovich of Diamond Age ("Speaker of the Year"), and Marina Sitnina of Gazprombank ("Art Consultant of the Year"). Irina Kokoreva (Credit Suisse) and Dmitry Klenov (UFG Wealth Management) were named, respectively, Lady and Gentleman of the PBWM industry.
Three companies were presented with Andrei Vdovin's special Editor-in-Chief Award. QB Finance was named "Best Investment Company of the Year", Absolut Bank received the award for "Best Merger of the Year", and JLC Management was recognized for the "Best Real Estate Development Project". The award from SPEAR'S Russia former Editor-in-Chief Alexander Gafin was awarded to M2M Private Bank for "Best Loyalty Program in the PBWM Industry".
The Judging Panel this year included Head of WATCH Russia Alexander Gafin, Senior Partner at GHP Group Mark Garber, CEO of Deutsche Bank Group in Russia Pavel Teplukhin, CEO of RUSNANO Capital Irina Rapoport, and CEO of non-governmental pension fund Blagosostoyanie Yuri Novozhylov. Andrei Vdovin, Editor-in-Chief of SPEAR'S Russia, chaired the panel.
SPEAR'S Russia Wealth Management Awards is an annual award for the private banking, wealth management, and related industries. In 2014, legendary Scotch whisky Chivas Regal was the Official Partner, Tonino Lamborghini Mobile and Gaggenau were partners. PwC was the independent consultant of the Awards. SPEAR'S Russia magazine and PBWM.ru website were the organizers of the Awards.
Creative and commercial management of the project is provided by MEDIACRAT.